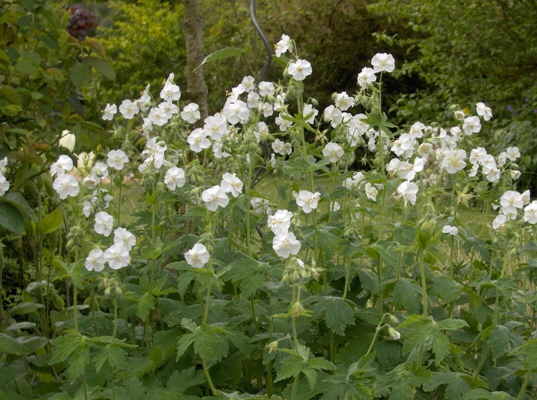 If there is one plant which sings that summer is coming to me, it is the appearance of Geranium phaeum album, the white form of the Dusky Cranesbill. Sprays of small pale yellow-centred white blooms held high on slim stems rise out of a dome of deeply lobed mid-green leaves,to catch any breeze and move gently. Its enormous strength is that it helps to bridge that awkward gap between spring bulbs and summer flowering plants, forming a soft lacy ruffle beneath early roses and hiding the yellowing foliage of fading tulips and narcissi.
From the moment the flowers open, they are a magnet for bees and the flowering period is sufficiently long that you really feel you have had your money's worth by the time the flowers come to an end. At this point, you take your sharpest shears and chop the entire plant off near the ground and give it a good feed. You will be rewarded by fresh foliage and the occasional waving spray of flower while the old material can go straight onto your compost heap. At this point you will also appreciate what a good weed suppressant the plant is.
It could not be easier to grow either – happy in full sun or partial shade, working well in a woodland setting as well as herbaceous borders (though I would caution that it can become slightly over-enthusiastic after a few years and require curbing) and is simple to propagate by division in spring. The only thing it really needs in order to reward you completely for taking the trouble to plant it is a little nourishment and some moisture – and in April and May, that is usually provided free of charge. Problems are few – in very damp springs there may be some mildewing of the leaves but the plant will continue to flower happily.
The photo below shows an underplanting of three David Austin 'Cottage Rose' plants and my Geranium phaeum album, now reaching the end of its flowering period this year.
It truly is a lovely plant; not a leading lady by any means, but it plays a wonderful supporting role in your late spring garden. It is probably one of the last plants I would part with.